North Londoners often joke that if south London is so great, why aren't there more Tube stations there? A proposed new extension of the Northern Line aims to redress the balance somewhat, with a new branch extending from Kennington to new stations at Nine Elms and Battersea.
As well as literally branching out into new territory, the £1bn project is also drawing attention for the unique financial scheme that will pay for it if it goes ahead. In a first for an infrastructure project in England, an innovative funding package has been agreed under which the Greater London Authority will borrow the cost of development from the Public Works Loan Board. The government will guarantee the repayment to minimise borrowing costs.
"Enterprise Zones usually offer incoming businesses a discount on their rates bills to stimulate growth and investment."
The loan will be repaid by revenue raised from local regeneration projects that will benefit from the new transport links. The two sources will be contributions by local developers collected by the Lambeth and Wandsworth local authorities; and the growth in business rates revenue from a new Enterprise Zone planned for Nine Elms, which will stay in operation for at least 25 years.
Enterprise Zones usually offer incoming businesses a discount on their rates bills to stimulate growth and investment. Under this proposal, it would be used purely as a mechanism to fund the Northern Line extension.
Final details of the financing package now need to be agreed by Wandsworth Council, Lambeth Council and Transport for London (TfL), working with the Mayor of London's Office, for inclusion in an application that TfL plans to submit under the Transport and Works Act by the end of April 2013.
Leader of Wandsworth Council, Ravi Govindia, said: "This project could represent a major breakthrough in the way we pay for vital infrastructure projects in this country. We plan to use an enterprise zone as a funding tool for a major transport upgrade, which in turn, will create new growth, new jobs and even greater tax receipts in the future.
"Over the long term the scheme would pay for itself while delivering a major economic and inward investment stimulus for London. It would give Battersea its first underground station and help bring an underused part of the Thames riverside back to life."
Mind the funding gap
Although businesses attracted to the area will not benefit from the usual rates discount, the local economy stands to receive a boost from the creation of as many as 25,000 new jobs and the building of 16,000 new homes across the Nine Elms on the South Bank regeneration area.
The proposals have received a healthy thumbs-up from local residents, with around three quarters of people responding to a third public consultation on the new Tube link with positive or neutral comments.
"Local economy stands to receive a boost from the creation of as many as 25,000 new jobs and the building of 16,000 new homes."
Michèle Dix, managing director of Planning for TfL, said: "This third public consultation very much confirms that there is very strong support for this transport link. These two new Tube stations at Battersea and Nine Elms will create access to the London Underground for thousands of people, as well as cutting journey times from this part of London to the West End and the City to around 15 minutes."
TfL also says it would reduce pressure on Vauxhall station, offer relief to the existing Northern Line south of Kennington and provide wider access to leisure and employment opportunities for local people.
Having lobbied in his own inimitable style for the Northern Line extension, the Mayor of London Boris Johnson has welcomed the progress made to date on the funding scheme.
"I am delighted that after months of intensive discussions and hard work we have got the go ahead from government on financing an extension to the Northern Line, which is hugely significant as Nine Elms is one of the areas with the greatest prospect for new development in the whole of the capital," he said.
"It will be an incredible confidence boost for developers preparing to invest there and it will also be a considerable boost for local people who will benefit from the new Tube link."
Next stop, financing
"The proposals have received a healthy thumbs-up from local residents."
As officials from the Mayor's Office and TfL finalise arrangements for financing of the extension with the government, a consultation is also underway for the extension itself, which must be carried out before the Transport and Works Act Order is submitted.
If planning approval is obtained from the government and a funding package is in place, construction on the Northern Line extension could begin in 2015, with the two new stations opening as early as 2020.
The go-ahead on a financing plan is the latest in a series of milestones the wider regeneration programme has achieved in the last year. Significantly, a new buyer has been confirmed for the iconic Battersea Power Station site where 3,400 new homes, a new office quarter, a retail centre, new hotels and an entertainment district will be built.
Once that is finalised, it only remains for the designers of the Tube map and the Monopoly board to squeeze in the new look Northern Line.
---
Related content
---
Crammed carriages are a common sight on metro systems during peak hours, and tackling overcrowding is a priority for most networks.
Network Rail has announced a five-year, £37.5bn investment in UK rail, which includes 355,000 more trains in service and 225 million additional passengers a year.
Generically referred to as 'the Tube', London is the oldest and remains one of the largest metro systems in the world, carrying over one billion passengers a year.
---
Follow Berenice Baker on Google+
Free Report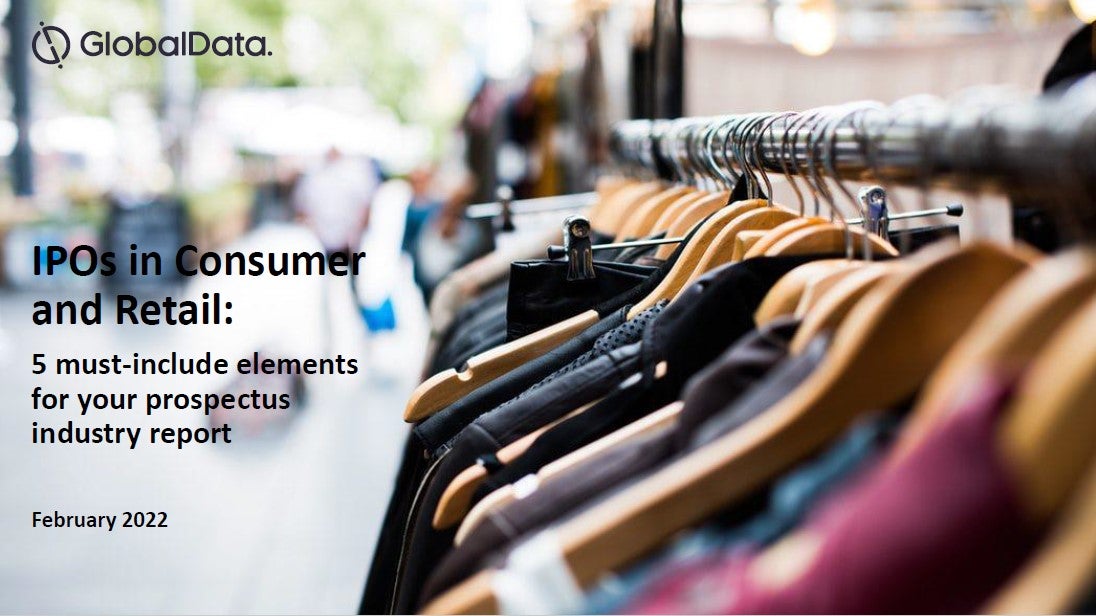 What's missing from your IPO industry assessment?
IPO activity all but stopped in 2020, as the investment community grew wary of the effects of COVID-19 on economies. No matter how deserving a business was of flotation, momentum was halted by concerns of when a 'new normal' of working patterns and trade would set in. Recently, sentiment has changed. Flotations picked up again during the second half of 2021, and now in 2022 the mood is decidedly optimistic. Business leaders have their eyes on fast rebounding economies, buoyant market indices and the opportunity once again to take their businesses public. As a result, global IPOs are expected to hit back this year. With GlobalData's new whitepaper, 'IPOs in Consumer and Retail: 5 must-include elements for your prospectus industry report', you can explore exactly what is needed in the essential literature. GlobalData's focus lies in the critical areas to get right:
Macroeconomic and demographic environment
Consumer context
Industry environment
Competitive environment
Route to market
Interested to learn more about what to include in your IPO Industry Assessment report? Download our free whitepaper.
by GlobalData