As the UK's largest infrastructure builder, Network Rail has long divided opinion.
To its supporters, the government-owned group  has performed solidly in its management of 20,000 miles of track across the country, and 2,500 stations.
And notwithstanding the 2007 Grayrigg crash in Cumbria, UK, in which one passenger was killed and scores more injured, the network's safety record over its 15-year tenure remains impressive.
Under Railtrack, Network Rail's privately run predecessor, more than 52 people died in accidents over a five-year period, before the company folded in 2002.
To critics, however, Network Rail is one bloated beast, in thrall to government whims that have led to over-regulation and a byzantine financing model. Passengers and taxpayers deserve better, they argue.
Following a review by UCL professor Peter Hansford, in which a number of funding gaps were identified, Network Rail will now invite private companies to bid for maintenance and renewal projects, to improve competition from the private sector. But it's unlikely that critics will be appeased by this new set of reforms, which was announced by Network Rail in August.
A chequered history: Network Rail's previous attempts to attract private capital
According to Network Rail CEO Mark Carne, the reforms will "unlock a lot of additional funding for the railway that otherwise wouldn't happen".
Network Rail certainly needs to address its funding problems. Since launching a five-year plan investment programme in 2015, it has only managed to reel in £328m from third parties out of an overall outlay of £15bn on new projects.
The organisation has an unsuccessful history of attracting private investment. In 2002, Channel Tunnel mastermind Sir Alistair Morton, then chairman of the now-defunct Strategic Rail Authority, attempted to establish special purpose vehicles that would be jointly owned by Network Rail and private companies, in order to ring fence new schemes.
Unfortunately, the initiative foundered due to a lack of interest from the private sector.
"We've been here before," says Christian Wolmar, one of the UK's leading railway experts. "Because the railway is so indelibly tied into government support, I don't really see how you can incentivise a private company."
Referring to the Hansford review, Wolmar calls the recent reforms "fanciful", and believes Network Rail has become too entrenched as a governmental arm to suddenly turn its hand to attracting the interest of private entities.
"The problem with private investment in the industry is that if it merely replaces money that Network Rail is spending, all that means is Network Rail will be borrowing the money at a higher rate of interest," he says.
"I can't see it really getting anything different from it. It can no longer access its credit card that it did for many years because it is now a government agency and is cash-limited."
Tinkering around the edges: Maintenance and renewals take precedence
Wolmar is also critical of the types of infrastructure projects prioritised in the reforms. Rather than focusing on maintenance and renewals, he argues that high-expense tasks such as building new tracks should be priority, as they offer a better chance to transform the UK rail sector.
"What is really needed are initiatives that genuinely would not be able to take place without private sector interest," he says.
"We're not talking about hiving off bits Network Rail's maintenance or renewals, as there is no real advantage in doing so because of the higher interest rates. That's just tinkering around the edges trying to solve a fundamental problem.
"So, there needs to be a genuine business. Take, for example, additional railway. That couldn't be funded by Network Rail right now, but if an entrepreneur was incentivised enough to take a risk? That might bring genuine additional capital to the industry."
"What is really needed are initiatives that would not be able to take place without private sector interest."
While Hansford's review stresses the need for Network Rail to present private sector opportunities as clearly as possible – something it has failed to do in the past – it also makes reference to possible cooperation with local authorities.
For instance, as part of the reforms' new rewards scheme, a local government that helps in the reconstruction of a new park-and-ride can expect to pocket the proceeds.
"There's a much stronger possibility of attracting interest from the public sector," says Wolmar. "But, you have to remember that this isn't Germany or France, where regional governments have real money.
"In the UK, local authorities are incredibly constrained by treasury rules and subject to constraints. So I'm not sure how they would get around that. They would have to be let off the leash."
Starting small: Trials to begin later this year
Network Rail will trial the reforms later this year on its Anglia route, with the goal of rolling them out across the country in early 2018.
Other projects in the pipeline include Leeds Bradford airport station, as well as Wixams station in Bedfordshire, a new station at Robroyston in Glasgow, and a multi-storey car park in Northampton.
The plan, said Carne in July, is to allow third parties to dip their toes into the water with smaller projects, before considering involvement in bigger undertakings. Despite being cautious, Carne is confident of there being enough funding for larger schemes from 2019 through to 2024.
"It adds up to new ways of doing things," says Andrew Allen, research and consultancy coordinator at the think tank Campaign for Better Transport.
"Network Rail will still be responsible for overseeing day-to-day operations," he says, "but who does the work on these, and any other projects the Department for Transport deems necessary, is very much more fluid.
"The question is whether the new approach will achieve the intended savings while still maintaining accountability and Network Rail's enviable safety standards."
With the Department for Transport under fire, having recently pulled the plug on a number of rail electrification upgrade projects, some are fearful of a funding crisis in the British railway sector.
Will the private sector be willing to step in and stump up the cash? History suggests that Network Rail still has to work on managing its expectations.
Free Report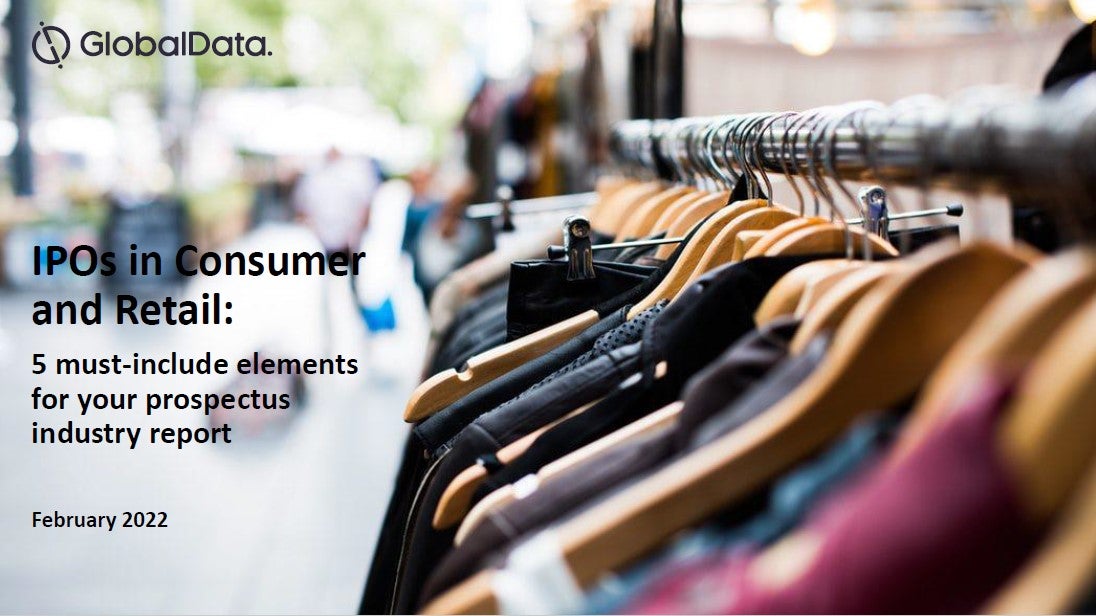 What's missing from your IPO industry assessment?
IPO activity all but stopped in 2020, as the investment community grew wary of the effects of COVID-19 on economies. No matter how deserving a business was of flotation, momentum was halted by concerns of when a 'new normal' of working patterns and trade would set in. Recently, sentiment has changed. Flotations picked up again during the second half of 2021, and now in 2022 the mood is decidedly optimistic. Business leaders have their eyes on fast rebounding economies, buoyant market indices and the opportunity once again to take their businesses public. As a result, global IPOs are expected to hit back this year. With GlobalData's new whitepaper, 'IPOs in Consumer and Retail: 5 must-include elements for your prospectus industry report', you can explore exactly what is needed in the essential literature. GlobalData's focus lies in the critical areas to get right:
Macroeconomic and demographic environment
Consumer context
Industry environment
Competitive environment
Route to market
Interested to learn more about what to include in your IPO Industry Assessment report? Download our free whitepaper.
by GlobalData